Today is the best day ever! Why? Eva and I spent the morning painting and then diorama-ing, and then she read to me and I scratched her back, and then, after lunch, she beat me (for the third time in a row) at Princess Chutes and Ladders by landing on square #80 and climbing for the win (for the third time in a row). I have a lot I could be doing, but I think I'm happy because I'm doing what I would be doing, and that's making fun with Eva.
I can feel you roll your eyes at me. Do I sound like a self-help mag for moms? Well, you can keep rolling. I understand. Yesterday, when I kept telling Eva to wait a minute (which ended up being a twenty-minute-long minute) so I could finish up some something I had to do (translate=which is more important than what you want to do, Eva), I would have been rolling my eyes right along with yours, because I was harried and flustery and in no mood for exclamation points. But today, I'm happy, and I know I'm happy because I'm choosing the right thing–the thing that's right, here and now. I'm not putting off the right now until it's spent away. I know those last few sentences made little or no sense, but I don't care, because I realized while I was painting with Eva this morning that a lot of grown ups live in fear their lives (which include sentences they write) won't make the right kind of sense. They spend most of their effort keeping their lives in what seems to them like order, and that is why they rarely want to play with children.* They are afraid of doing stuff wrong. Even fun stuff. They won't paint because they don't remember how. They think there is a how, which isn't true because all you need is a brush and some color and a paper and the will to put it all together no matter how it turns out. You also need the now.
And trust me, when you paint in the now with your daughter you won't be doing it for her. No, as soon as your brush gets going, you'll be doing it for you.
So today is the best day ever! I hope tomorrow is too.
*I suspect this realization has to do with something Jack said in Room.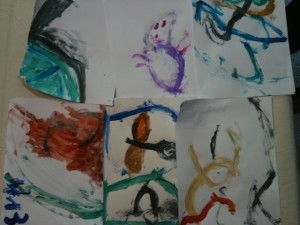 Eva made six paintings while I made two.

I squiggled lines and glittered.
Our diorama for Eva's cow–Note the giant ladybug and the glittered clouds. They reflect the light of the sun.