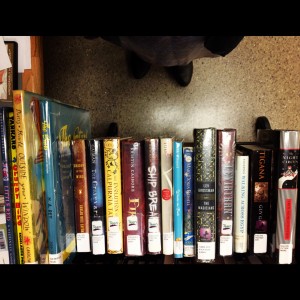 We recently displayed staff picks at my library. My coworker Catherine and I asked the staff to provide us with eight titles (owned by our branch and currently on the shelves) that they wanted to include on the big cube in the middle of our branch's common area, with their name attached via bookmark. I always worry no one will want to contribute titles, that they'll drag their feet at this extra bit of effort, but that never happens. Apparently, library employees like to share books. (I know. Surprising.)
Anyway, I like to share books so much, that I thought I'd post my titles here. Picking "staff picks" was somewhat of a challenge, because the books had to be on our shelves. We can't order books from other branches for this purpose or place reserves on items currently checked out. So, like any other library user, browsing the shelves for something to read right that moment, our tastes were checked by chance.
Here's what I ended up with:
(I may have gone a little over the eight book limit.)
And, by the way, it's so fun when a patron chooses one of your picks. You almost want to walk them to their car in some kind of send off, but then they might be afraid to come back.